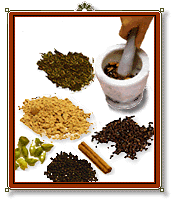 There is no end to the diversity of recipes for making your own chai. Chai recipes are like Italian minestrone soup - its always good but everyone's recipe is different. Brewing chai is fun and allows you to experiment until you get it 'just right' for your personal taste. We have collected recipes from around the world to help you in your quest for the perfect 'heavenly chai'.
Chai is basically black tea brewed with selected spices and milk. Each ingredient adds subtle flavor changes and brewing methods vary widely.
For commercially brewed chai tea concentrate, chai tea mix, and bulk loose leaf chai, please visit our sponsor website at Chai Direct.